Sector: Kaibab Forest
County: Timberland
Faction: Travelers
Waypoint: /waypoint 6478708 5648636
LifeNet Fast Travel Terminal: /waypoint 6488127 5659718
Garage: /waypoint 6491141 5663312
Bunker Bar: /waypoint 6474747 5650466

Description
Banker's Hole is the Travelers faction town in Kaibab Forest.
Vaults
Merchants
Trainers
Conversers
Managers
Enemies
Missions
Town Event
Event Manager Luanne Geddes (/waypoint 6473649 5648173) holds the main Town Event mission. Turn in Banker's Hole Chips to Event Reward Manager to claim your prize.
Notable Information
Satellite Images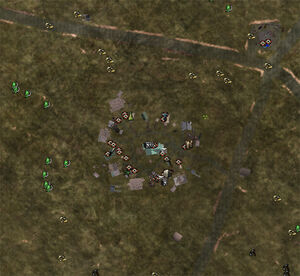 Ad blocker interference detected!
Wikia is a free-to-use site that makes money from advertising. We have a modified experience for viewers using ad blockers

Wikia is not accessible if you've made further modifications. Remove the custom ad blocker rule(s) and the page will load as expected.