Sector: Plateau
County: Mowbray Basin
Waypoint: /waypoint 4286304 3864712
Tourist Telescope: /waypoint 4301065 3883226
LifeNet Fast Travel Terminal: /waypoint 4293980 3884019
Garage: /waypoint 4290140 3880114

Please help out the wiki and write a description!
Vaults
Merchants
Trainers
Conversers
Managers
Enemies
Missions
Notable Information
Workshops

Armorcraft
Ballistics
Cooking
Mutagenics
Nature
Science
Weaponry
Satellite Images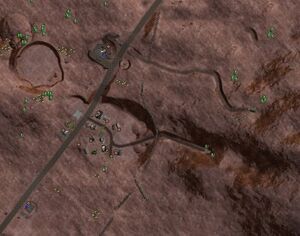 Ad blocker interference detected!
Wikia is a free-to-use site that makes money from advertising. We have a modified experience for viewers using ad blockers

Wikia is not accessible if you've made further modifications. Remove the custom ad blocker rule(s) and the page will load as expected.