Sector: Plateau
County: Central Plains
Waypoint: /waypoint 4407539 3493434
Tourist Telescope: /waypoint 4407048 3500891
Garage: /waypoint 4381846 3493267
Bunker Bar: /waypoint 4411560 3492547

Description
The headquarters of the Travelers in the Plateau, run by Boss Enzo Scarpelli and his right hand man, Slammer Winstead. The rival Black Hood and Bleeding Orchid traveler families also make a presence here.
Vaults
Merchants
Trainers
Conversers
Managers
Enemies
Missions
More Information'
The town is also home to the famous Brock Dundy, hunter of giant scorpions.[1]
Satellite Images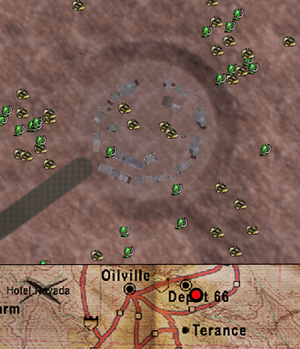 References
↑ GLOBAL Tech Altus: Starter Towns. Retrieved on 2009-09-25.
Ad blocker interference detected!
Wikia is a free-to-use site that makes money from advertising. We have a modified experience for viewers using ad blockers

Wikia is not accessible if you've made further modifications. Remove the custom ad blocker rule(s) and the page will load as expected.