Sector: Kaibab Forest
County: Pine Valley
Faction: Vistas
Waypoint: /waypoint 6338283 4920070
LifeNet Fast Travel Terminal: /waypoint 6373877 4975189
Garage: /waypoint 6370075 4979931
Bunker Bar: /waypoint 6338283 4920070

Description
Gaia is the Vistas faction town in the Kaibab Forest. A path north-west of town leads to a small Vista outpost, Shangri-La. The Keep Gaia Free event spawns at the south east of town.
Vaults
Merchants
Trainers
Conversers
Managers
Enemies
Missions
Notable Information
Facilities
Mailbox

Gas Stations and Stables

Stable - in Pine Valley county, east of town at /waypoint 6375040 4910297

Stable Manager
Garage Manager
Workshops
Armorcraft
Ballistics
Cooking
Geology
Medicine
Mutagenics
Nature
Science
Social
Weaponry
Satellite Images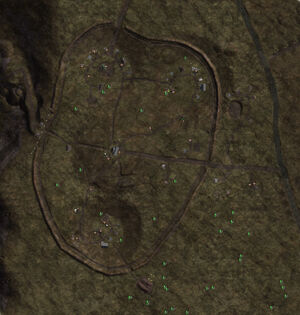 Ad blocker interference detected!
Wikia is a free-to-use site that makes money from advertising. We have a modified experience for viewers using ad blockers

Wikia is not accessible if you've made further modifications. Remove the custom ad blocker rule(s) and the page will load as expected.