Sector: Kaibab Forest
County: Central Kaibab
Waypoint: /waypoint 6414722 5151512
Tourist Telescope: /waypoint 6421305 5149502
Garage: /waypoint 6396536 5130134

Description
The Town is opressed by the Human League. Reach the Tourist Telescope is part of the Achievement Dead Reckoner.
Vaults
Merchants
Trainers
Conversers
Managers
Enemies
Missions
Factional Camps
Tech
Waypoint: 6451663 5159401
Enforcer
Waypoint: 6450898 5115994
CHOTA
Waypoint: 6376163 5141169
Traveler
Waypoint: 6404694 5113009
Lightbearer
Waypoint: 6403999 5196165
Vista
Waypoint: 6435396 5193679
Merchants
Component merchant (tier 2) has the following items when travelers are in control.
As of this moment I'm not sure if there are other components available for different factions.
Other Notable Information
You can also scavenge Average Geologic Chemical from scavenging nodes around the town (usually found in Barrels and Refuse).
Starting level for Haietta missions:40
Satellite Images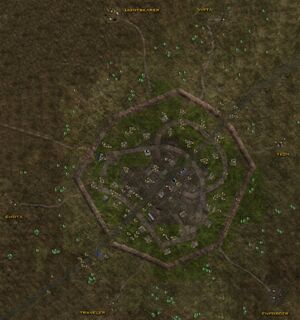 Ad blocker interference detected!
Wikia is a free-to-use site that makes money from advertising. We have a modified experience for viewers using ad blockers

Wikia is not accessible if you've made further modifications. Remove the custom ad blocker rule(s) and the page will load as expected.