Goals
Get the specimen knife from the equipment locker.
Mission
Mission:
Tess Bramby
wants you to get a specimen knife for your class.

Description
Okay, now you're ready to start your training. The first class is anatomy. Go to the equipment cabinet and get a specimen knife. Prepare yourself for the bodies. Remember, it's not ghoulish or mistreating a body; in death, they're teaching our students to save lives. Study up on your first aid, too. Hugh doesn't tolerate incompetence.

Tell me more.
Progress
The locker mentioned for this mission is on the second floor of the building tucked in the corner of the northwest room.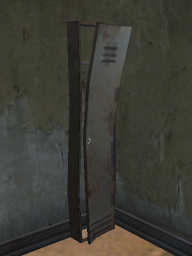 Although it's not listed as a mission reward, upon interacting with the locker you will receive a Crude Shiv.
Completion