Vault: Barter
Comments

0
13,539pages on
this wiki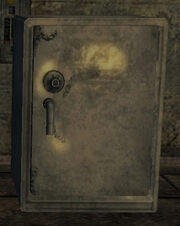 DescriptionEdit
The Barter Vault is the 2nd most common vault type, right after the Sector Vault. All Barter Vaults access the same storage area. So, any item placed into a Barter Vault can be retrieved from any Barter Vault in any town.
Notable InformationEdit
You can purchase an additional 8 or 16 storage slots from the marketplace.